Filter by Category
Arts & Crafts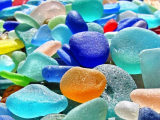 Making Jewelry with Sea Glass
with Lynne Thompson

May 2, 2018 at 6 pm

, runs for 2 weeks
Beautiful pieces of natural sea glass are turned into wearable art in this class. Learn some of the basics of jewelry making as you create a pendant and earrings out of sea glass. Sea glass and wire will be provided by the instructor but feel free to bring your own pieces. Each student will need his or her own pair of needle-nose pliers. Please bring a $15 materials fee payable to the instructor the first night of class.
Lynne Thompson has been creating sea glass jewelry since 1996 after moving to New Harbor, Maine.
Registration Unavailable
Sea Glass Picture Workshop (May)
with Crystal Lee

May 2, 2018 at 6 pm

, runs for 1 week
With the guidance of the instructor, you will create and seal your own 11 x 14 sea glass picture. All materials including sea glass will be provided, however you are welcome to bring any sea glass of your own. Pictures will not be able to go home with you that evening because of the drying process, but may be picked up the following day.
Crystal Lee grew up with the ocean in her backyard and has always loved searching for sea glass. She creates ocean inspired jewelry with metal stamps, lobster/mussel shells and sea glass. Crystal started a home business in 2013 called Lobsterman's Wife and sells many of her ocean inspired art and jewelry on Etsy.