Filter by Category
Home & Family
Babysitters Training Course
with Katy Genthner
Jun 25, 2018 at 9 am

, runs for 1 week
Learn the skills and techniques necessary to be a responsible, competent and fun babysitter in a one-day class. This course will cover such topics as: child care essentials, the proper response and handling of emergency situations, behavior management, safety for the sitter, and babysitting as a business. Students should bring a lunch and a snack. Please do not bring any electronics or phones. For students ages 11-14. A certificate is issued upon successful completion of the course. Register EARLY – this class fills up quickly!
Please note: School should be out by June 25th. Hardship discounts are available, call us.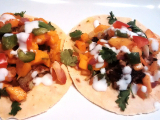 Mexican Night - Make Your Own Tortilla Press
with Chris Toy
May 30, 2018 at 5:30 pm

, runs for 1 week
Make your own tortilla press for fresh corn tortillas! Afterward we will fill them with tasty salsa, rice, chipotle beef, cheese, and fresh lettuce. Yum! We will also make an easy cold avocado soup. You will go home with a full stomach, new recipes, and your own tortilla press! This class is a great option for both vegetarian and gluten free diets. Bring a Phillips screwdriver for assembly. Materials fee included.
Chris Toy is a Stonewall Kitchen Cooking Instructor with alifelong interest in cooking with an Asian-Downeast fusion flavor.